Getting to Mariposa Beach Resort
Mariposa is located just south of the airstrip in Placencia Village. Formerly a fishing village, Placencia is a burgeoning tourist destination filled with quaint Caribbean colors and still thriving with Belizean culture. Narrow, with water on both sides, it tends to feel like an island, but in actuality, it has the benefits of road access to mainland Belize. The nearby Cockscomb Nature Reserve or the Maya King Waterfall and Zipline is just a 40-minute drive away.
Please check the entry requirements below before planning your trip to Belize: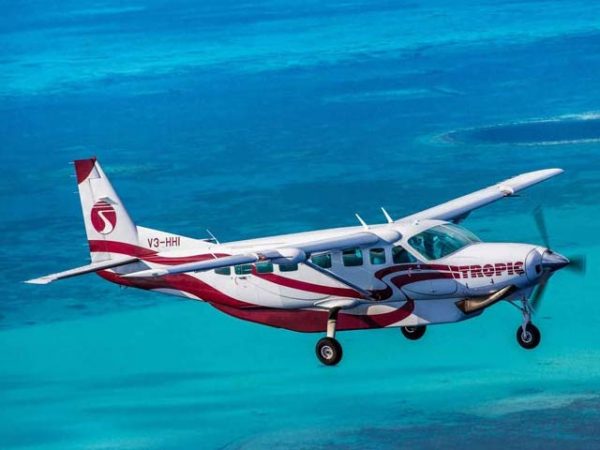 Flying to Placenica village
Flights from the United States and Canada arrive in Belize City at the International Airport (BZE). A twenty-three-minute domestic flight from Belize City will bring you to the breathtaking peninsula called Placencia via the Placencia Airport (PLJ).
Since booking travel can be such a headache, at no additional cost to you, and as an authorized agent for Tropic Air, Mariposa can handle all the necessary arrangements for your domestic flights from BZE to PLJ. Upon arrival at Placencia Airport, a team member of Mariposa will greet you at the airport and bring you directly to the hotel to settle in and take a dip in the turquoise, tranquil Caribbean sea.
Please contact us for assistance or questions about booking your accommodations and/or domestic flights to/from Placencia.
Driving from Belize City to Placencia Village
When driving from Belize City, head west on Cemetery Road, which becomes the Western Highway, take this all the way to Belmopan, where you will connect with the Hummingbird Highway heading south.
Ten kilometers (6 1/3 miles) before Dangriga, the Hummingbird Highway connects with the Southern Highway. Take the Southern Highway towards Placencia and Punta Gorda. After 37km (23 miles) on the Southern Highway, turn left onto the road to Riversdale and Placencia. From this turnoff, it's another 32km (20 miles) to Placencia.
The drive from Belize City should take around 3 hours.
Visit Budget Rental Cars or Jets Shuttle Belize for information on car rentals. (Ask for Josh)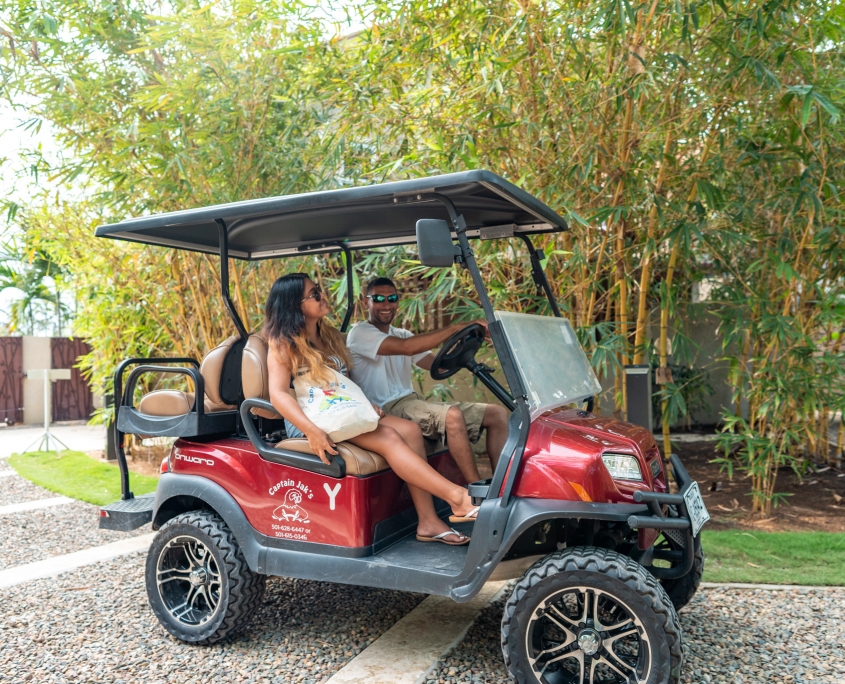 Getting Around while You are Here
While in Placencia, there are a few ways to get around the peninsula, including a golf cart, bicycle, and taxi. Resort shuttle service is for airport pick up and drop off only. However, if available, a shuttle to/from town via the resort shuttle is $10.00 to cover vehicle & fuel expenses. Taxis can be called at the front desk or bar area.
There are golf carts at the resort, but these are only for liability purposes. We highly recommend that you book your golf cart in advance to have a secure mode of transportation while staying in Placencia. 
Named by the Spaniards and meaning 'pleasant point,' Placencia is a 16-mile long peninsula in the southern Stann Creek District of Belize. It consists of four major villages along the road. It begins in the North and moves South- Riversdale, Maya Beach, Seine Bight, and Placencia Village.
There is only one road that runs the length of the peninsula, which makes finding your way an easy thing to do. Everyone is welcome on the road, whether taking a stroll, riding a bike, scooter, golf cart, or car. In the heart of the village, there is 'The sidewalk,' sandwiched between the road and the beach, the three running in parallel for about two miles. Historically, the sidewalk has been known as the world's narrowest main street, as listed in the Guinness Book of World Records.
Located within biking distance from Placencia Village and with bikes provided free of charge by the resort, it's both easy and safe to get out and explore the local community on your own. You will find grocery stores, ATMs, a pharmacy for all your needs, beach bars, live music, and great restaurants for your enjoyment. Out and amongst the cultures of Belize, you'll have the opportunity to play drums with the Garifuna, have a Creole meal from a roadside vendor, watch a Rasta carve his wood, or buy souvenirs from an indigenous Mayan. The dining scene in Placencia is truly fantastic- starting from the North with Maya Beach Bistro and moving steadily down past Singing Sands, the Quarterdeck at Laru Beya, Café Mare at Turtle Inn to Rumfish and Rick's Café in the village. We highly recommend that you stop at the local street vendors during your stay as well, you may eat your tacos on the roadside, but they'll be worth it!
Just remember, the staff at Mariposa are here to help you with any recommendations or reservations you may need during your stay. We've got you covered, from a sea or jungle adventure to renting a golf cart or going bowling! Oh, and be sure to pick up a copy of the local paper, The Placencia Breeze; it can be found free of charge around town and will help you get familiar with the village!