Placencia Belize Restaurant and Bar
Decorated with Belizean art and furnished with hand-built furniture from Belize, you can dine in our open-air Palapa, in our courtyard garden, or out on our beach overlooking the Caribbean Sea. A few highlights from our menu are: Eggs Benedict, Breakfast Burritos, French Dips, Quesadilla, mouth-watering old-fashioned beef or chicken burgers, Shrimp Ceviche, lobster when in season, fresh fish, and our roasted garlic bulb appetizers.
Our cuisine is a mixture of Belizean and International dishes. We use only local, fresh ingredients bought from neighboring farms and fishermen. Scroll down on this page, where you will find the latest menus. Each day our chef also posts specials for lunch and dinner.
If it is not a meal you seek, the Pool Bar is the perfect place to enjoy a cold beverage! Our local beers include Belikin, Landshark, Lighthouse, and Guinness. We carry a full range of local Belizean liquors and a selection of imported alcohol and specialty drinks. Our bartenders are dying to make you something tropical that reminds you that you are on vacation. Try Tiburon rum punch, mojitos, pina colada, or a cappuccino with Bailey's.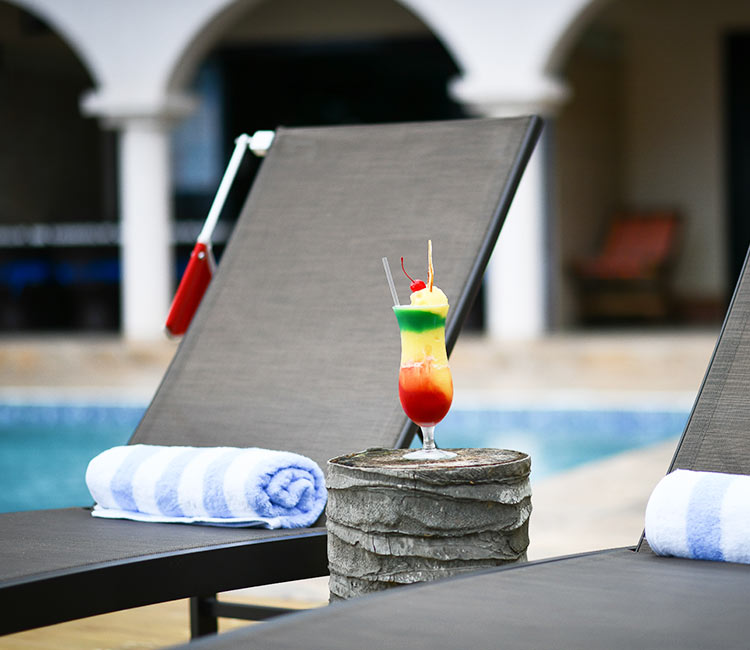 The Breezeway offers breakfast, lunch, and dinner from 7 am to 9 pm 7 days a week. Our hours would change only under special circumstances like COVID outbreaks, private weddings, etc. They are updated on our Facebook page.
To order to-go or make a reservation, contact 523-4473.