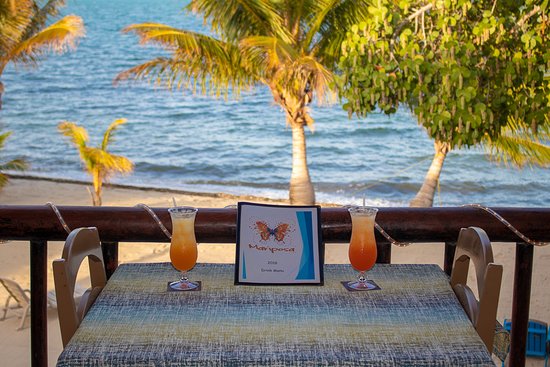 Placencia Belize is a popular travel destination because of its beautiful, relaxing white sandy beaches.
Many travelers also enjoy this area of the country because there are so many great attractions and gourmet restaurants.
When it comes to eating and drinking in Placencia, the Breezeway Restaurant and Pool Bar at Mariposa Beach Resort is truly the place to go.
An Experienced And Creative Chef
Our local chef, Aron Mai, knows a thing or two about serving up tasty, international cuisines with a never-seen-before Belizean twist.
After learning how to cook in Italy, he gained the necessary skills to create delicious meals by using locally-sourced ingredients.
Due to his amazing success as a creative chef, he recently competed in the Belize Master Chef competition.
With so much cooking experience, he is fully qualified to prepare delightful meals at our restaurant.

A Wide Selection Of Favorites

Chef Aron Mai prides himself on presenting guests with a wide variety of delicious Belizean cuisines.
Although everything on the menu can be considered scrumptious, some of the guests' favorites include lobster, fish, breakfast burrito, hummus, and much more.
Our restaurant also features a wide selection of wine to complement your meal. Many of these tasty wines are from France, Italy, and California.
We also carry an extensive array of local liquors and specialty drinks.
Make sure to also review our chalkboard for everyday specials.
Beautiful Dining Options
The great thing about our popular restaurant is that you can dine in a pristine and relaxed setting.
When you enter the restaurant, several people can be seen dining in the lovely open-air palapa or by the pool.
As you enjoy your delicious meal in one of these areas, make sure that you look around every once in a while to view unique, homemade furniture and amazing Belizean art.
Stay At Mariposa Beach Resort
If you are searching for a place with succulent food, tropical drinks, and comfortable accommodations, why not stay at Mariposa Beach Suites?
Situated right on the Placencia beach, the resort is most known for its world-class restaurant and treehouse accommodations, so you will be eating and sleeping in style.
Many guests also appreciate the extremely friendly hospitality team that goes out of their way to make every stay special. Let's face it: Who wouldn't want to stay here?
If you are visiting Placencia in the near future, we strongly recommend that you stay with us.
Give us a call today to book a reservation. We promise that you'll love staying at our wonderful resort.