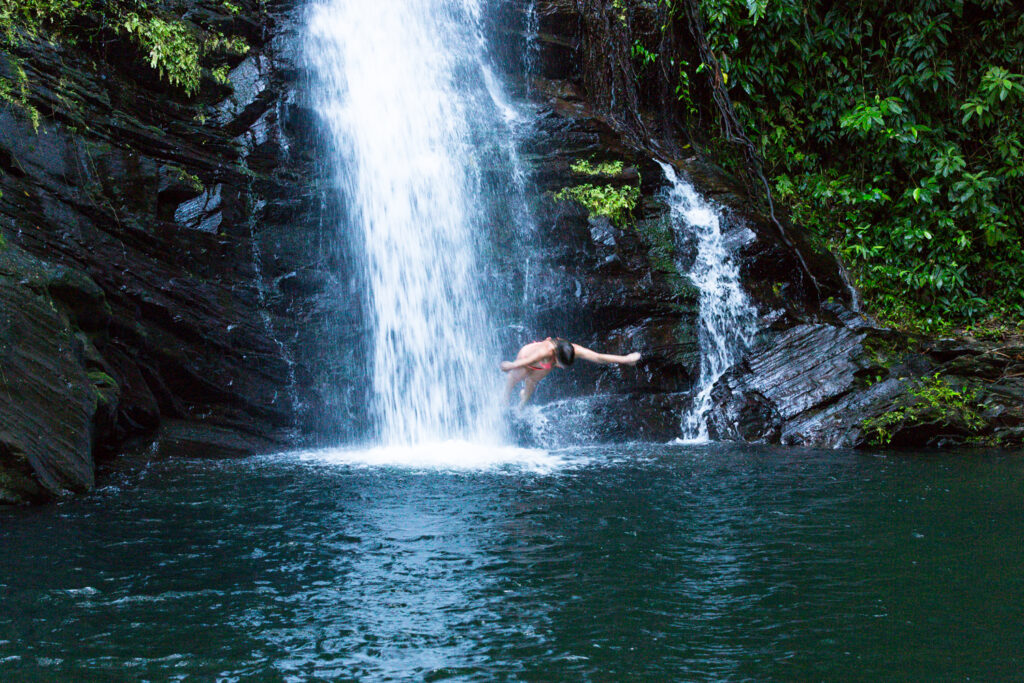 Photo courtesy of BTB
No trip to Belize would be complete without experiencing the power and majesty of Belize's most dramatic and beautiful destination: Maya King Waterfalls in Southern Belize. Visitors gain more than a glance at the power of nature: they derive emotional benefits by visiting, too.
Waterfalls, say scientists, do more than delight the eye. They improve one's mood and if you stand close enough to feel the spray, your respiratory system benefits. People, it seems, feel happier by doing nothing more than standing in front of waterfalls.
What contributes to this bliss? The relaxing sounds of water beating on rocks, the intoxicating motion of water plunging to pools below and if you don't think it's possible to experience a renewal of the spirit, you will become a believer the moment you visit Maya King Waterfalls near the Placencia peninsula.
What can you expect from a visit to Maya King?
As one of the most photographed waterfall in Belize, Maya King is composed of not one but two cascading falls that are particularly dramatic during the region's rainy season when, according to Belize tourism folks, the scene turns into "nature's best shower-head!"
Visitors to the site can choose from two transport options. Trek along a road on the mountainside filled with orange trees and planted with a bamboo canopy or reach the falls via a vehicle if you don't want to trek. Use the changing rooms on site to don swimwear so you can jump into the water collection pool below the cascade.
Called the ultimate jungle adventure, let your imagination run wild as you envision how this spectacular site must have looked to superstitious indigenous Maya people wandering into this area with no clue what awaited them. If it's your first visit, you're likely to feel the same way.
Make it an idyllic jungle experience
The resort you choose for your Placencia vacation can make or break your waterfall experience, which is why so many visitors seeking close proximity to Maya King Waterfalls stay at Mariposa Beach Resort.
This beachfront resort is more than just a place to lay your head at the end of an exciting day; it's an elegant retreat nestled into the Caribbean seashore where beautifully-appointed rooms can be hard to leave—even to dine at the award-winning onsite restaurant.
But you must leave your lush digs to avail yourself of Mariposa Beach's tour menu that includes a wide variety of choices. Included are:
-Diverse cultural experiences from music to spice farms
-Aquatic treats that include snorkeling, diving, fishing and sailing
-The world's second largest barrier reef
-The world's only jaguar reserve at Cockscomb Basin Wildlife Sanctuary.
You don't have to lift a finger to avail yourself of these experiences. Ask Mariposa resort staff and they'll sort out an itinerary custom-designed just for you.
Come for the waterfall. Stick around to visit Central America's most fascinating natural sites. Bring a camera. Most of all, bring your stress. Find out how it feels to experience true peace simply by standing still and listening to the waterfall.