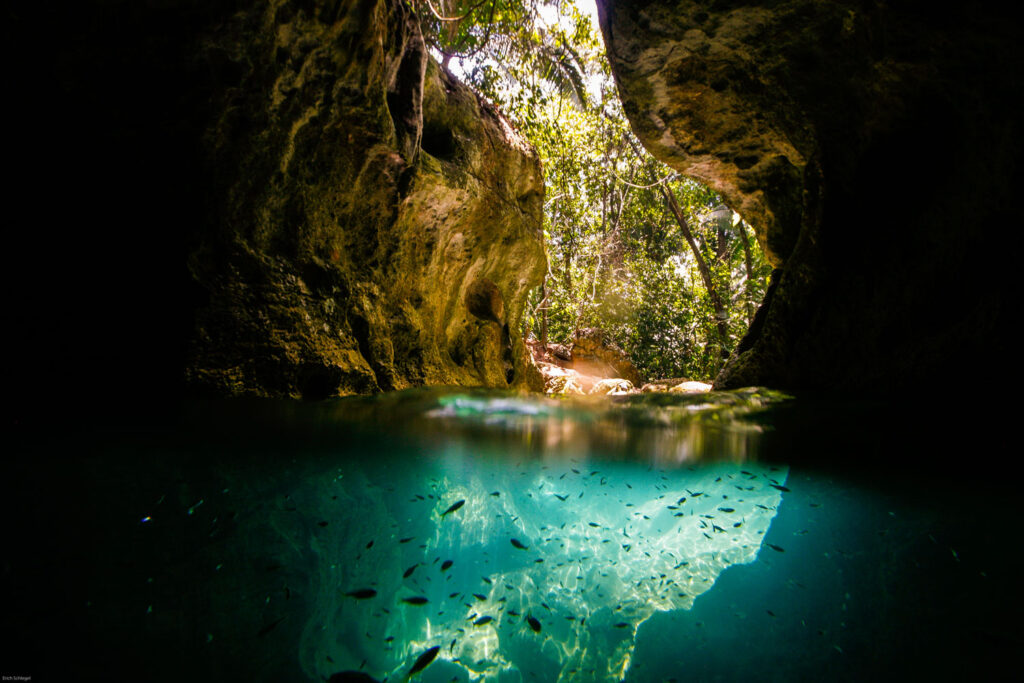 Belize has more wild, epic adventures than you can imagine, but there are five that stand out. Our guests say these are the most mind-blowing, heart-pumping adventures you can experience here.
1. Tour the ATM Cave
We're putting this at the top, and you need to be in top physical and mental shape to take on this challenge. The Actun Tunichil Muknal or ATM is one of the most famous caves in the world. It was an ancient Maya ceremonial site.
Visiting the ATM requires a hefty trek through the Mountain Tapir Nature Reserve, fording a stream,hiking down to the cave mouth and then entering the cave without wearing shoes. Explore it by walking, crawling and swimming through its many passages.
2. Explore the Belize Barrier Reef
Did you know the Belize Barrier Reef is the second largest barrier reef in the world? It's an amazing UNESCO World Heritage Site surrounded by clear Caribbean water teeming with marine life.
Explore the incredible Gladden Spit Marine Reserve, a beautiful marine reserve that attracts whale sharks during the months of March and June every year. The nearby islands known as the Silk Cayes and Laughing Bird Caye are amazing, unspoiled islands you can also visit.
3. Get Close to Nature on the Monkey River
Monkey River is a coastal waterway that runs from a valley in the Maya Mountains to the Caribbean Sea. It's one of the most scenic waterways in Belize. As you canoe or kayak down the river, you'll see the banks on either side come alive with an explosion of wildlife, colorful birds and the howler monkeys that give the river its name.
4. Get Wild at Cockscomb Basin Wildlife Sanctuary
Cockscomb Basin is the world's first jaguar sanctuary. Jaguars were sacred to the ancient Maya, and they are among the many big cats that call Belize home. The sanctuary's 200 square miles of protected area give safe haven to pumas, ocelots, iguanas, tapirs, deer, foxes and tropical birds of all kinds. The sanctuary includes 12 miles of well-marked trails, waterfalls, mountain scenery and untouched jungle.
5. Investigate Maya Mysteries
Learn about the ancient Maya who ruled Belize thousands of years ago. The ruins of Lubaantun are among the biggest in Belize. Lubaantun was an important city that combined residential homes, places of worship, thriving businesses and farms.
Nim Li Punit is another nearby Maya city that is amazingly well-preserved. Both cities are more than 2000 years old.
Stay Close to the Adventure at Mariposa Beach Resort
All these adventures can be done from southern Belize. This is also where you'll find the stunning beaches of Placencia. Make the most of your Belize vacation by staying in Placencia at Mariposa Beach Resort.