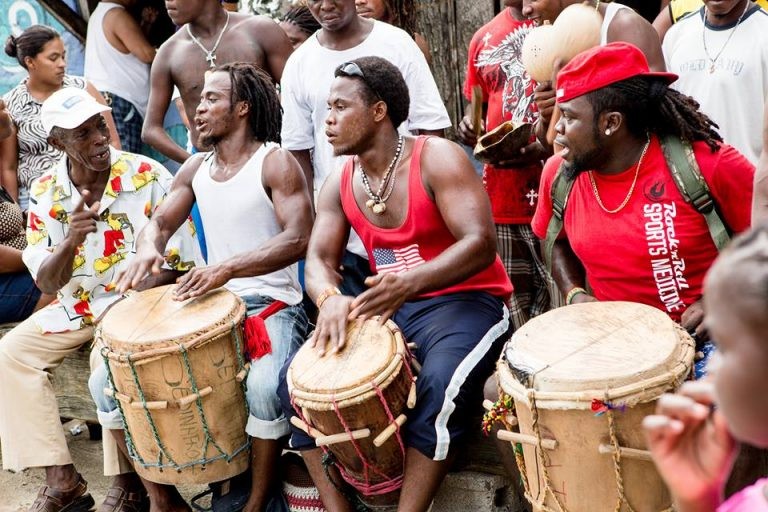 Almost 400 years ago, Carib Indians migrated to the Caribbean island of St. Vincent where they confronted the Arawak. Many members of the two tribes married, and their their descendants remained in the region. In 1635 they were joined by hundreds of Nigerian slaves seeking refuge from two Spanish shipwrecks.
The Africans and Caribbeans intermingled with each other, resulting in a voluntary and peaceful assimilation of their two very different cultures. This was the creation of the Garifuna people.
Unfortunately for the Garifuna, they were not left in peace. In 1660 the British signed a treaty recognizing their rights to their homeland. Within a decade, however, the agreement was broken as the British took control.
This created resentment and led to multiple uprisings through the late 18th century. Finally, the Garifuna fled St. Vincent in 1802.
First they settled in Roatan, Honduras but by 1823 they were forced to leave. Eventually they settled in southern Belize in communities like Dangriga, Hopkins, Seine Bight and Placencia. Though they only make up 4% of the country today, they have a great impact on the culture due to the unique blend of their Caribbean and African heritage.
Unfortunately, this unique culture as well as their status as freedmen made it difficult for them to assimilate in their new home. While they were tolerated, they were not welcomed, unlike the Creole, which is the other Belizean community with African roots.
The Garifuna adopted a loose form of Roman Catholicism that allowed them to retain some of their ancestral traditions and tried to adapt themselves to their new home. However, they faced not just social ostracism but also legal discrimination. They were banned from participating in politics and could not even sell food in local markets.
In response, many became educators. In fact, it is rare in the modern era to find a Belizean who has not had at last one Garifuna teacher. Perhaps it is this fact that has finally brought them some much deserved appreciation.
A national holiday was declared in their honor in 1977. On November 19th, Garifuna Settlement day is celebrated and nowadays their contribution to the art, music and cuisine of Belize is acknowledged.
You can learn more about the Garifuna and immerse when you stay in Placencia, Belize. The best place to stay here is at the Mariposa Beach Resort.
Our delightful boutique resort allows you to not only learn about a unique native culture, it also provides you with opportunities to enjoy marvelous beaches, visit ancient pyramids and explore the beautiful rain forests. Relax, play and learn at Mariposa Beach Resort.