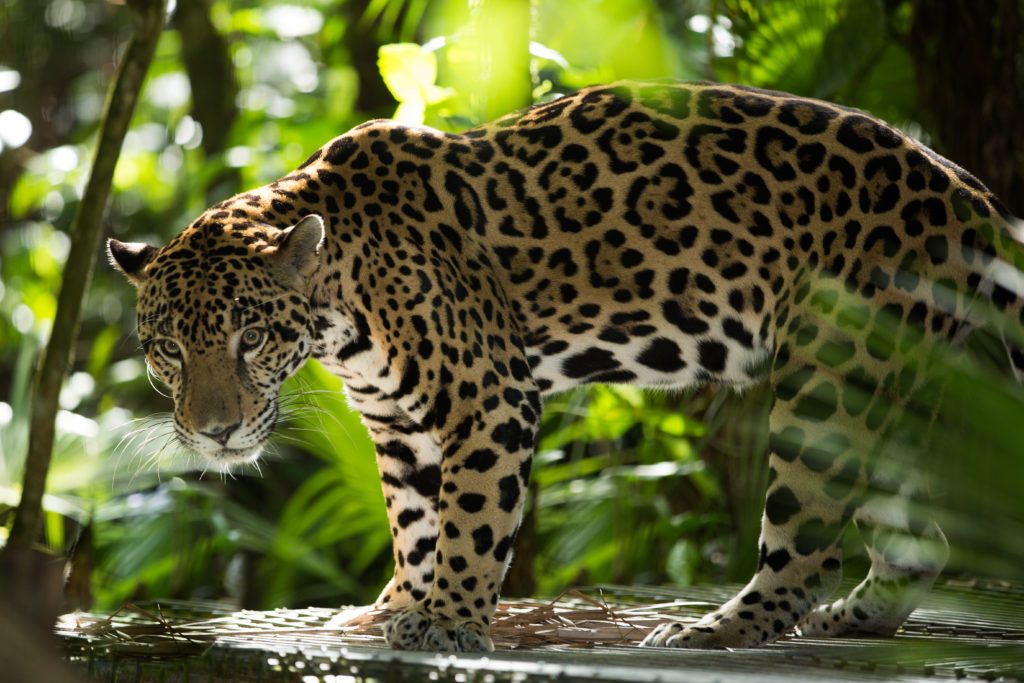 If you want a truly wild and wonderful experience in Belize, be sure to visit the Cockscomb Basin Wildlife Sanctuary. This enchanting rainforest preserve was the world's first jaguar preserve. It's the ideal spot to view wildlife, exotic birds, unique Belizean animals and more.
Activities for Everyone
Cockscomb Basin welcomes adventure travelers of all skill levels. You can take a leisurely walk or bike ride through the main areas or challenge yourself with a waterfall hike. The dense shade of the trees and the jungle river nearby including the cascading waterfalls make for cool, comfortable walking on most days.
All the trails are clearly marked. Informative signs indicate which animals you might spot at certain points.
At the park's entrance, you'll find picnic tables, cleared areas, a visitor's center and a museum. You can rent bicycles or an overnight cabin.
A History of Protection
In the early 1980s, wildlife biologists undertook a study of Belize's jaguar population. They discovered that the Cockscomb Basin had the highest-density jaguar population ever recorded. In 1984, the government of Belize and the Belize Audubon Society created a 36,000-acre preserve to protect the jaguars.
Today, the sanctuary encompasses more than 125,000 acres of rainforest. It is a spectacular preserve dotted with waterfalls, sparkling pools, dense rainforest and soaring cliffs.
A Sanctuary for Jaguars and Other Exotic Animals
At Cockscomb Basin, jaguars and other exotic animals have found a safe home. Five species of big cat are native to Belize, including pumas and ocelots, and they all are regular visitors at Cockscomb Basin.
Visitors can also see deer, foxes, otters, butterflies, hundreds of species of exotic birds and the mountain tapir, which is Belize's national animal. Cockscomb Basin is a feast for your eyes. Set aside enough time to take in all the beautiful sights.
How to Get to Cockscomb Basin Wildlife Sanctuary
The sanctuary is about 20 miles south of Dangriga on the Southern Highway.
Explore Everything at the Mariposa Beach Resort
If you want to explore Cockscomb Basin Wildlife Sanctuary and other top attractions like Monkey River, Laughing Bird Caye, Silk Caye and the gorgeous Placencia Peninsula, the Mariposa Beach Resort is the perfect starting point. Our location in Placencia is close to everything, and we can arrange transportation to every excursion on your list. Get started on the perfect Belize vacation by calling us today.