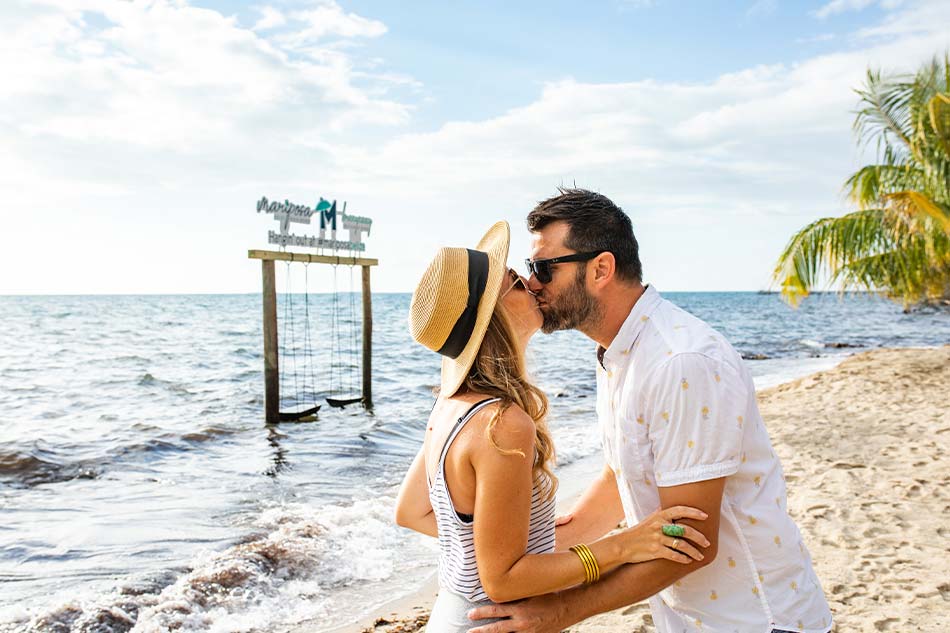 There is nothing quite so romantic as having a beach wedding, looking into your new spouse's eyes before a picture-perfect backdrop, and imagining the wonderful future you will have together. You can actually do this when you choose to have your wedding at Mariposa Beach Resort in Placencia, Belize.
The Venue
Mariposa Beach Resort, located a mile away from Placencia Village, is a private, small resort ideal for an intimate beachfront wedding. Because the resort only has 11 rooms, your wedding party can easily rent out the entire resort for a private affair. Choose between the treehouses and oceanfront suites for the right accommodations to fit your needs. The reception room has the capacity to seat 28 guests. Mariposa is also ideal if you want your wedding to be an intimate occasion between just the two of you.
Planning
Contact the resort as soon as you're ready and planning can begin. Our staff will work with you to arrange the event and ensure everything falls into place. Because the resort is located a short distance from Placencia Village, making travel arrangements for wedding guests should prove easy. Private weddings can also make use of the on-site Breezeway Restaurant and Pool Bar, which serves a mixture of fresh international and Belizean cuisine.
The Big Day
Once everything is in place and all arrangements have been made, it's time to begin your stay at Mariposa Beach Resort and enjoy your special day. You will get to be married on a beautiful white sand beach, surrounded by lush palm trees and with breathtaking views of the Caribbean Sea. Before your closest friends and family members, you will embark on life's greatest journey together with the most important person in your life.
Do More
While many newlyweds will prefer to spend their time relaxing together in paradise, Mariposa Beach Resort also offers plenty to do if you or your guests want to explore the surrounding area. Snorkeling, diving, boat cruises, ziplining, fishing, and visiting Maya ruins are all popular attractions loved by guests. You can also explore the art galleries, shopping, restaurants, and other quaint local venues in Placencia Village. Consider setting up a romantic dinner for two or setting out on a sunset cruise with your special someone.
Your wedding needs to be a special day you will remember forever. Begin making plans for your 2022 or 2023 wedding with Mariposa Beach Resort for a wedding experience that will be unlike any other.