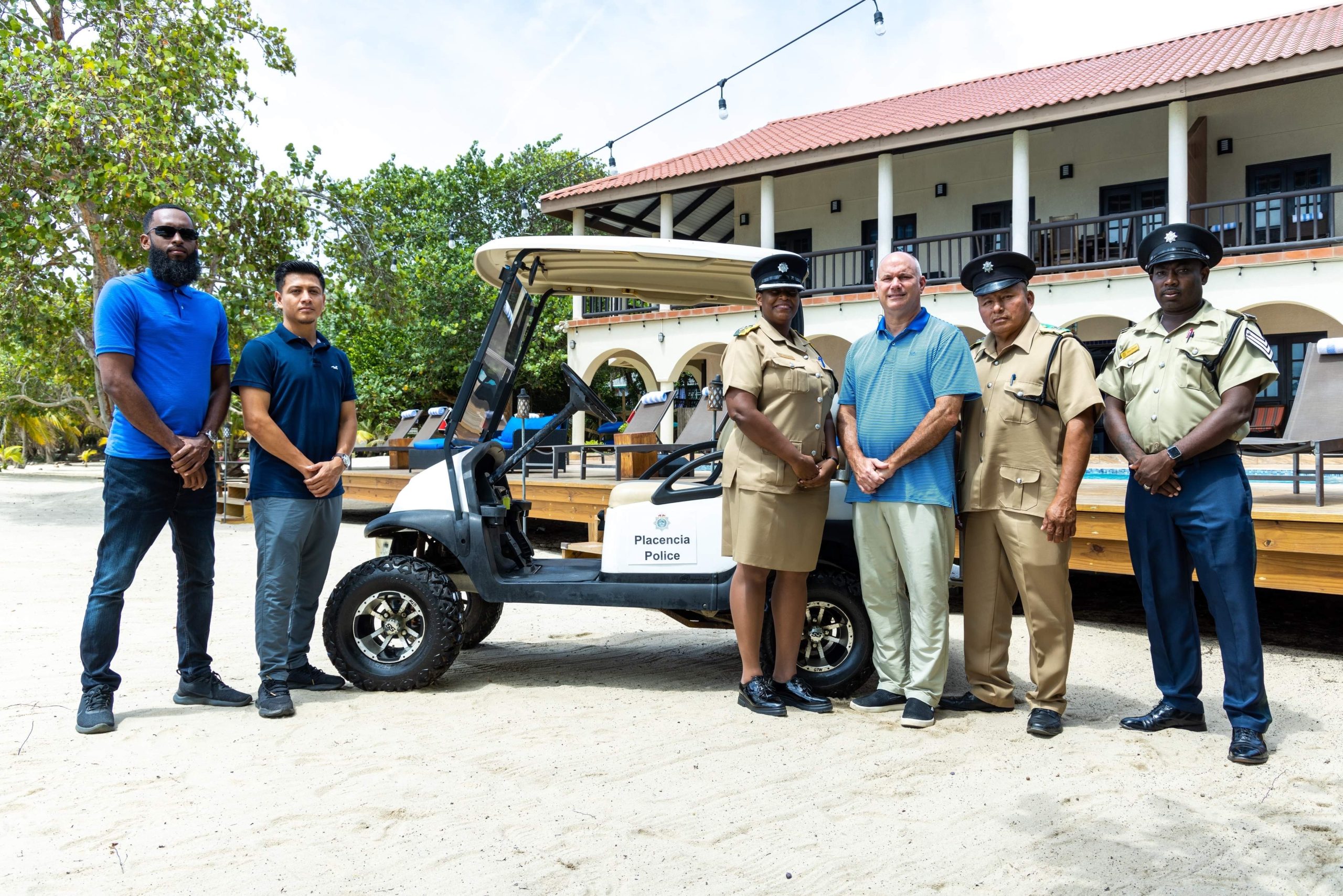 Mariposa Beach Resort, in continuing its mission to create lasting impact, foster a positive relationship, and ensure the safety of locals and visitors alike to the tiny beachside community of Placencia, has gifted the community's police sub-formation with a golf cart, to support their local policing efforts.
The donation was handed over on Thursday, August 4th, 2022, by Mariposa owner Lewis Blanchard, to Assistant Superintendent of Police Alma Mortis. She expressed her gratitude for the donation and said that it will help to boost local policing efforts on the Placencia peninsula.
At the handing over ceremony, Blanchard indicated, ''this will help the police in community policing duties and in the tourist areas of Placencia. Businesses should be a part of the community as we are all one community and therefore, we help whenever possible."
Mariposa Beach Resort, wary of the importance of fostering a healthy relationship with law enforcement officials and how that transcends into a safer community for all, has always supported the Placencia Police by donating much-needed equipment, school supplies for community service, tasty meals for officers on holidays, and even hosted several events to support law enforcement.
Our staff has even gotten down and dirty to assist the Police Department in several of their landscaping efforts. When they reached out to us requesting our assistance to paint speed bumps in the area, our staff immediately got to work. We went ahead and purchased yellow traffic paints, which our staff used to paint speedbumps throughout the community, thereby ensuring the safety of all our residents and those who journey from far to enjoy our picture-perfect community.
While Mariposa Beach Resort has one of the most remarkable teams that are always more than ready to pitch in and help their community, we also have some of the most supportive guests who are only too willing to partake in our Pack for a Cause Program, bringing school supplies for children and smoke detectors for seniors and others in need. It is only through these partnerships that we are able to give back to our community and those less fortunate.
"We are very blessed to have Mr. Lewis' assistance and the entire team from Mariposa." Besides helping the police department, they have helped provide many of these same services and medical equipment to the Placencia Fire Department, the Placencia Health Clinic, and Hummingbird Health Group. They have also helped the Placencia Humane Society when rooms were needed for veterinarians to help take care of local animals,'' commented Alma Mortis, Assistant Superintendent of Police.
On hand to witness our latest effort to support our community was Mariposa's very own Office Manager George McCoy, and Manager Miguel Cisneros, along with Inspector of Police Pedro Ical, and Sergeant of Placencia Police Abner Pascual.